Artist Books | Fine Art | Holiday Cards | Envelopes | Event Calligraphy | Garden Art & Wall Writing
Garden Art
I am a container gardener, and maintain up to four hundred containers at the peak of summer. Finding ways to incorporate calligraphy into the garden has been an exciting venture into writing on a variety of surfaces. I like to write on the terracotta flowerpots and tiles, and also have my letter designs sandblasted into the surfaces. These few photos will give you an idea of the fun I've had with calligraphy in my garden.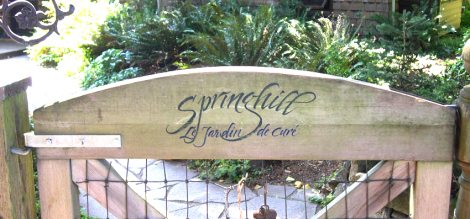 "Springhill gate" – brush written with acrylic paint

"Alphabet" – 4″x80″, brush written with acrylic paint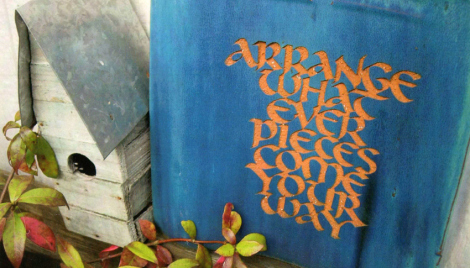 "Virginia Woolf quote" – 12″x12″, glazed roof tile, my lettering design is sandblasted into the glaze to expose the terra-cotta clay.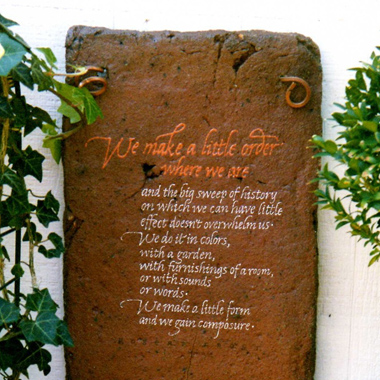 "Robert Frost poem" – 15″x8″, terra-cotta roof tile, written with acrylic paint & gel pen followed by a weatherproof coating.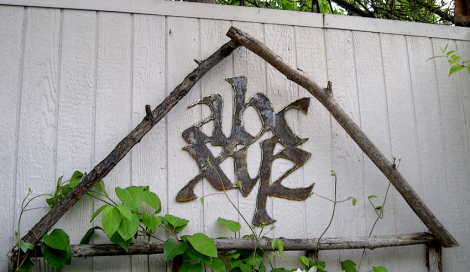 "abcxyz" – 16″x18″, steel, my lettering design is cut by a blow torch.
Wall Writing
Writing on walls is a natural extension of my skill with brush lettering. Brush writing on walls is similar to writing on paper, just much larger and usually done standing on a ladder. I always tape up my rough draft just below where I'm writing, for help with spacing and spelling. I'll share a few of the wall writing projects with you here.